Getting married is a magical time, you get to see your family and friends all together in one place.
To ensure that all your favourite people are able to attend, it's recommended to send out your Save the Dates as soon as you have decided on your wedding date.
A Save the Date is a lovely way of announcing your wedding date and an opportunity to give your guests as much advance notice as possible.  It also lets everyone know that a more formal invitation will follow which will contain all the details of your wedding.
When deciding what to say on your Save the Date there really is no etiquette…so please don't worry too much. Save-the-dates can be fun and simple to create...But here's a golden rule…"Short is sweet".
When to send a Save the Date
The purpose of the save-the-date is to give your guests as much advance notice as possible. Sending a Save the Date sooner rather than later is advisable.  Sending out a Save the Date is considered one of the earliest wedding "to-dos". I recommend that you send your Save the Date as soon as you have decided on your wedding date and your venue is confirmed.   Especially if you are having a wedding abroad.
It gives everyone plenty of time to organise time off work, save up, make the necessary travel plans and also ensure that you get ahead of any other couples who might plan their wedding on the same date…this way your guests don't double book with other events.
Another handy tip is to avoid sending your Save the Date around Christmas or Easter time, as you may find your Save the Date might get "lost" in the busy time.
Who should receive a Save the Date
Everyone you send a Save the Date to should definitely be on your final guest list..
So knowing your budget and final guest numbers is a bonus…However if you haven't ironed out all the final details yet, then I suggest you only send the save the date to your "A list" guests…you can always create an additional guest list for those who will receive a formal invitation, if you have some extra space.
How to create a Save the Date
Because save-the-dates are not as formal as an official wedding invitation, you have lots of different options.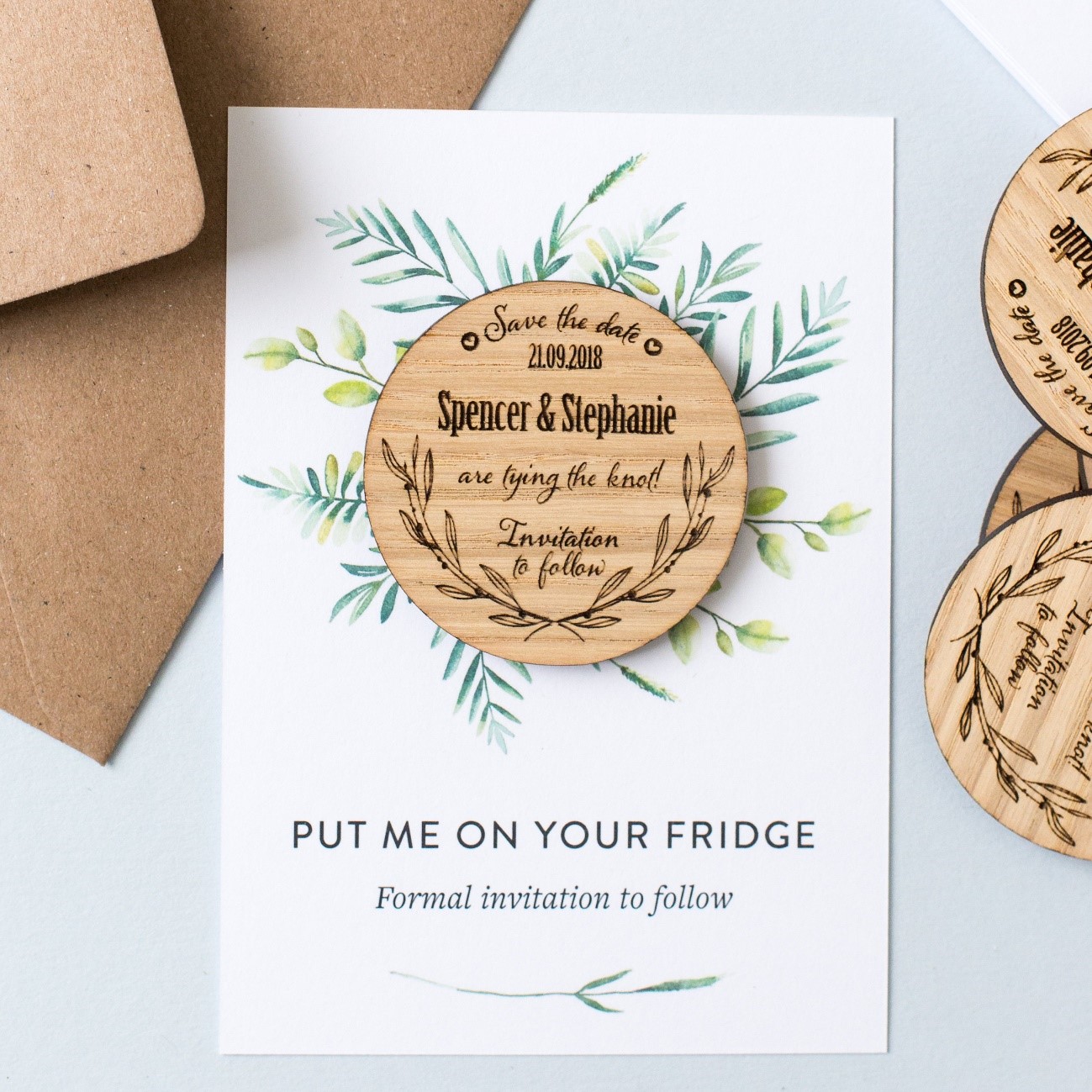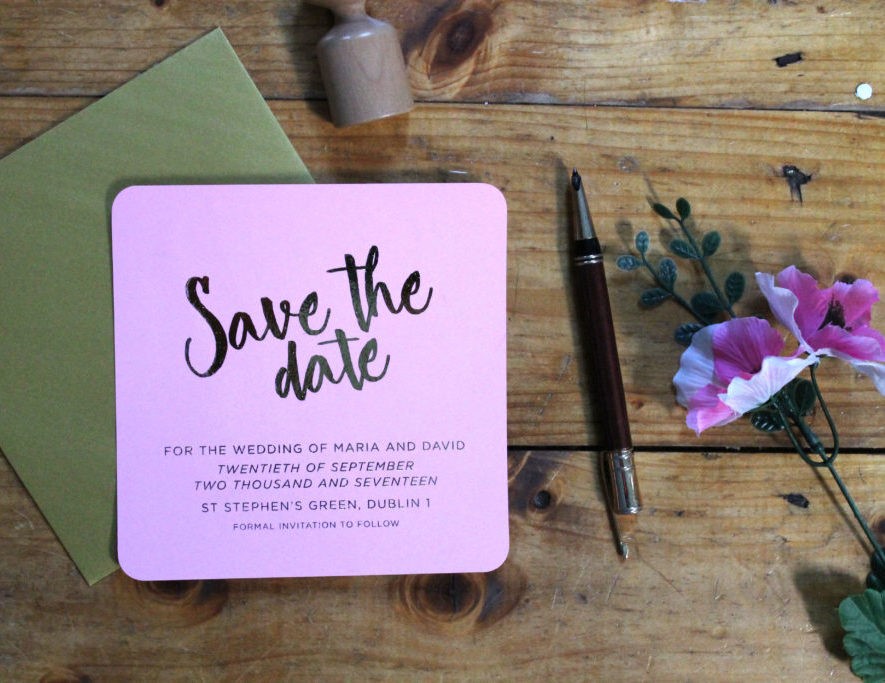 You can be creative, make them fun..  How about a Fridge Magnet (no excuse for forgetting your date), a Postcard, Luggage Tag (great for destination weddings) Mouse Mat..
Eco friendly- paper free
Everyone is more conscious of the Planet these days, using less paper…
And in the digital age we live in, where most people will have a smart phone or access to a computer, why not opt for a "paperless" save-the-date…some couples might wonder if an email will be enough.
While email save-the-dates and invites are definitely an easy, cost-effective and convenient method, there is always the worry that emails will be classed as Spam…also some of the email addresses you have for friends and family may no longer be valid...and of course you may also have to call around to ask for email addresses…
And not everyone checks their email regularly and your save-the-date could get lost in a pile of other emails.
Keeping in contact after you send a Save the Date
Wedding websites, Facebook Groups and WhatsApp groups are becoming more and more popular for couples planning their wedding.
It's an easy way to keep everyone updated with information
Save the Date examples- Do include..
Not sure of what information to include on your save-the-dates?
You should focus on the following, keep it short:
- Your names -Note 1
- Your Wedding Date-no need to include ceremony time-Note 2
- Location - No need to list the venue name at this point - Note 3
- Official invitation to follow -Note 4
If you have a Wedding Website or Face Book Group page, add to the Save the Date..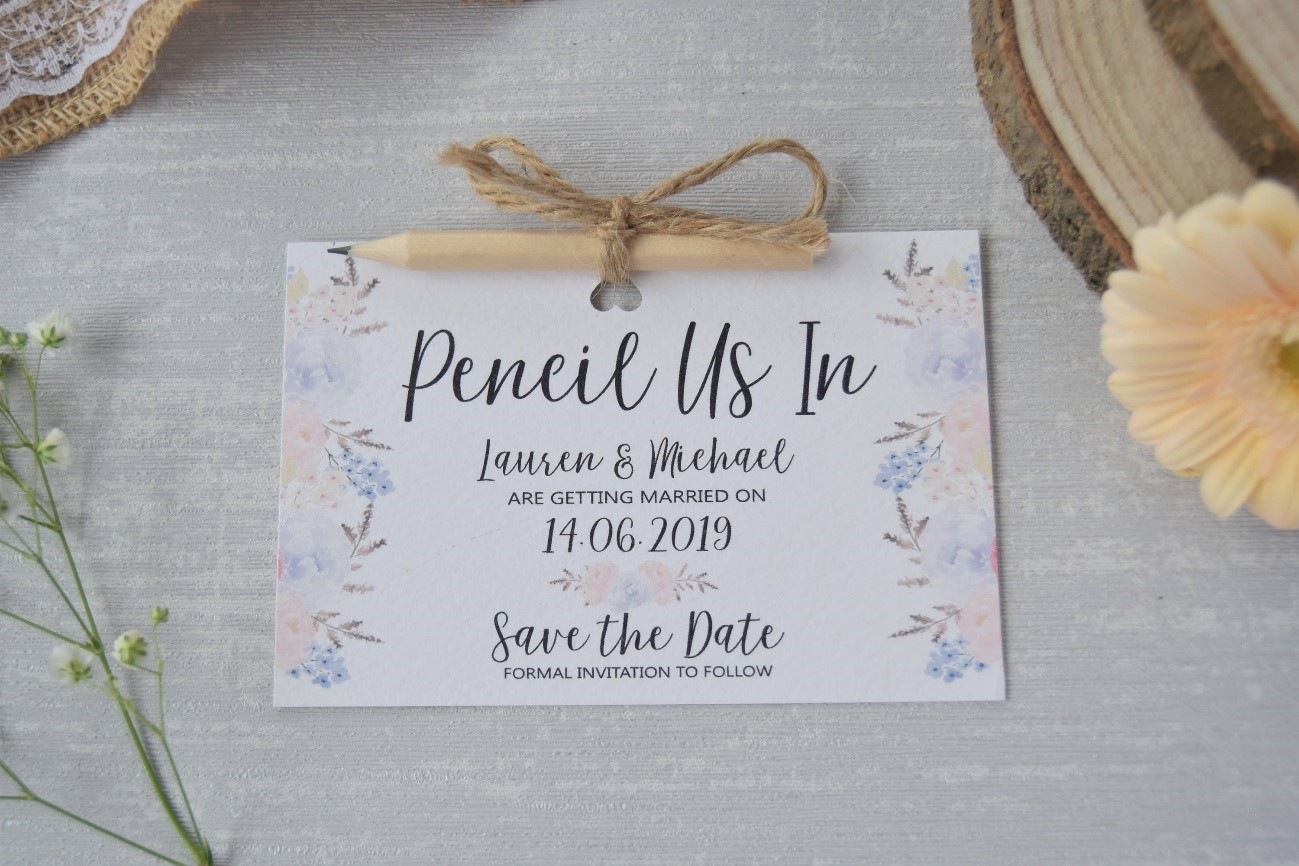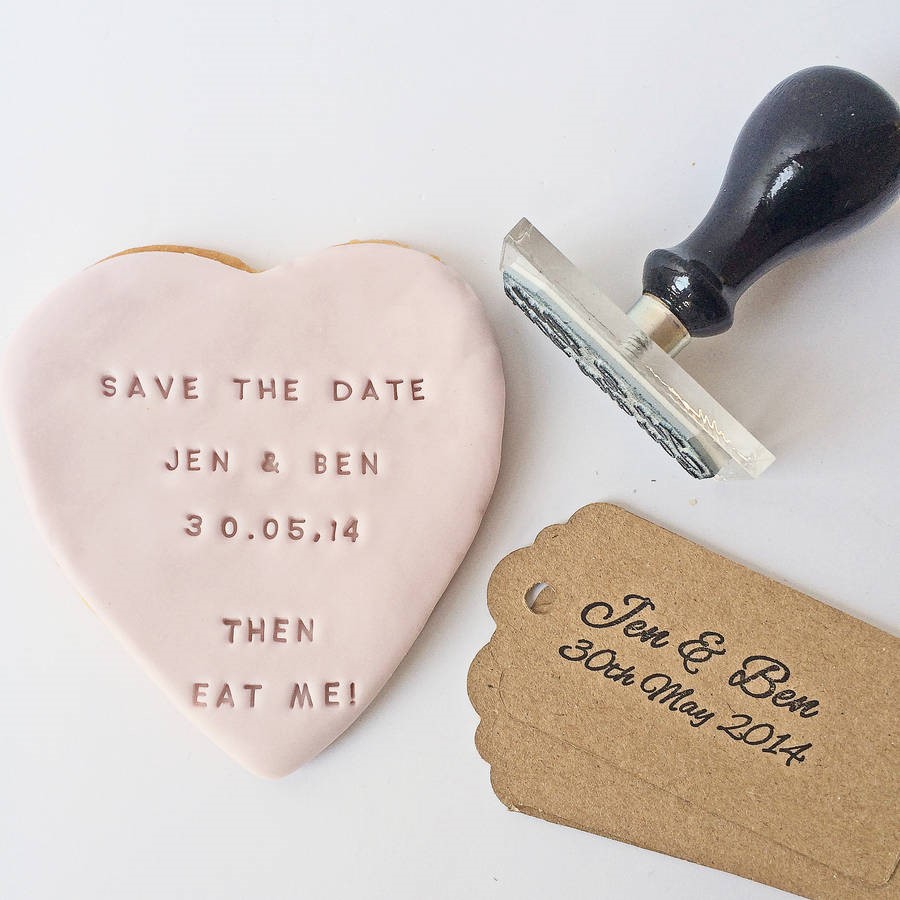 Save the Date examples- Wording matters
Most save-the-dates are brief and to the point...you can of course inject a bit of fun too.  But worth noting that if your wedding is a more formal/traditional occasion then your save-the-date should also follow that theme.
1.      The names on save-the-dates don't have to be as formal as that listed on your invitation…(the next blog will feature Wedding Invitations)..for a formal/traditional type wedding it's appropriate to use first, middle and last names…but for less formal weddings you can just use Christian names. Usually the bride's name is written first…for same sex couples, a good idea is to consider writing names in alphabetical order.
2.      Clearly state the date…no need to include the time of the ceremony or reception…this will all be included in the formal invitation.
3.      Usually you can simply write a town and county…but for overseas weddings it's best to include resort and country…(Puerto del Carmen, Lanzarote)
4.      Formal invitation to follow…Let your guests know that an official invitation will be sent later, and this can contain lots of different information.
5.      And if you do have a wedding website, Face Book Group page it's a great idea to include the link on your save-the-dates…these are great ways to offer more detailed information, wedding details accommodation ideas, recommended things to do, travel distances etc.
How to phrase your save-the-date is up to you as a couple…but here are some ideas, which I hope will inspire you.
Please Save the Date
For the wedding of
Bride's name
and (or to)
Groom's name
5th January 2021
Puerto del Carmen, Lanzarote
Official invitation to follow
Please Save the Date
To share in the joy of
Sarah & Richard
At their marriage on …Wednesday 5th January 2021
Richard proposed…
Sarah said yes!
Join us 5th January 2021
In Lanzarote
Photography: Pinterest
Ann Leneghan
Weddings by Ann Leneghan
More posts you might like...