The Original Lanzarote Wedding Planner...
My name is Ann, (originally from Ireland, Laois) founder and manager of Weddings by Ann Leneghan.
Our team has over 30 years experience in Hotels, Restaurants and Events.
I was the first wedding planner on the island as I have been organising weddings in Lanzarote since 1994 and during that time we have helped almost 3,000 couples with their wedding plans.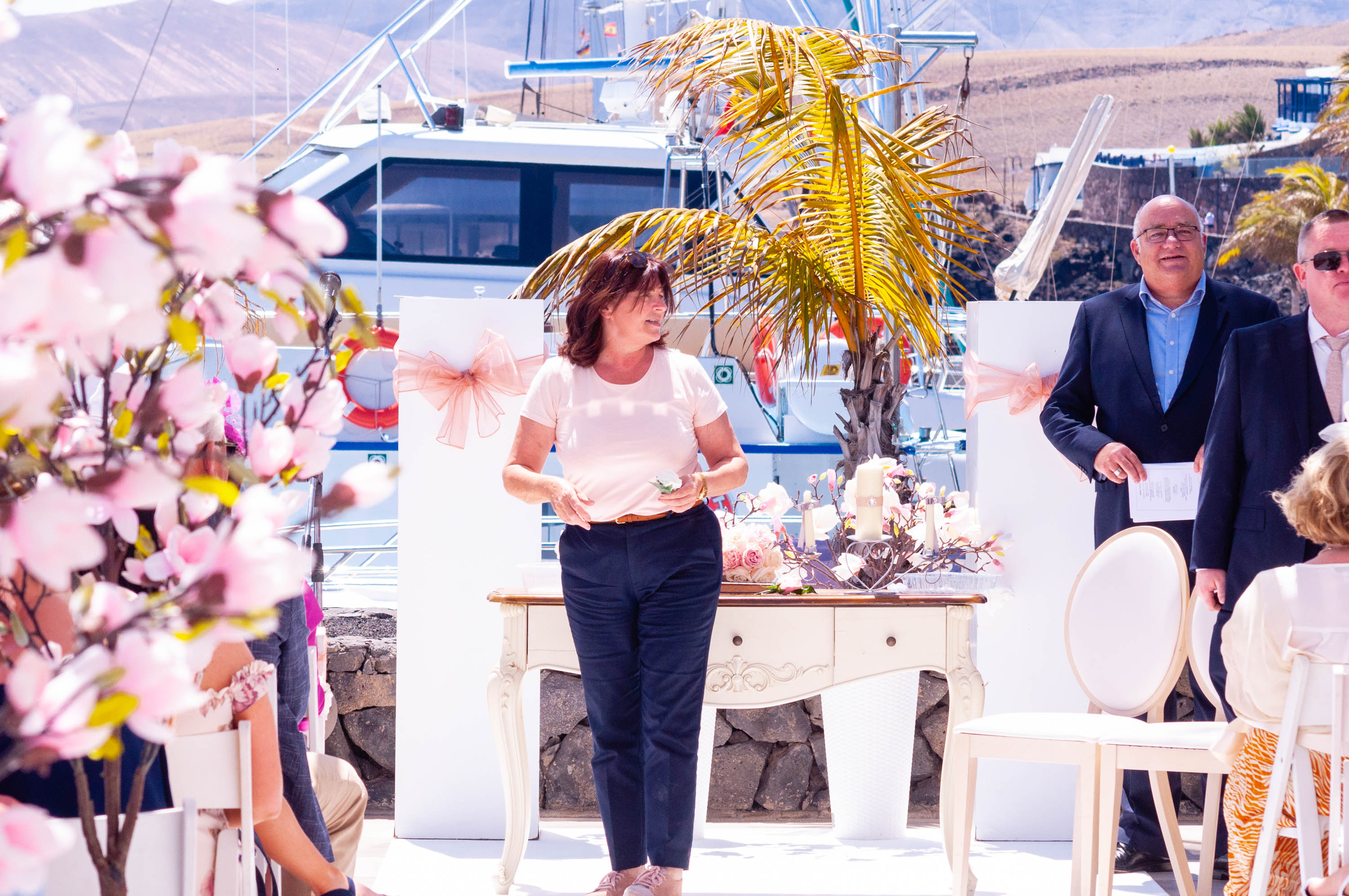 The following are the main areas in which we assist, we do a lot more besides.
Liaise with the Priest/Minister/Celebrant in Lanzarote, book your date
Full advice regarding the legalities, papers needed
Ensure that all paperwork is received, processed and valid before and after your marriage (Residents only)
Act as translator when required 
Organise your wedding rehearsal
Source a suitable venue for your reception
Budget control
Print personalised ceremony / order of service booklets
Print personalised menus, place cards etc
Arrange flowers for the wedding party, church / venue etc
Book trials with hairdressers and beauticians
Book fireworks display
Book children's entertainers
Arrange transport, bridal car, coach, boat etc.
Arrange wedding cake.
Arrange music for the venue and reception
Arrange a photographer or videographer for a wedding album and/or video
Arrange to settle all bills for outside services and present just one invoice to the couple 
Additional Services
Organise airport transfers
Book guest accommodation
Arrange day trips for bridal party or guests. Sunset cruise on catamaran, island tours, buggies etc
Day After Parties
We, as specialists, know how long it takes to organise your special day. We take care of all the details so you don't need to worry. We will keep you informed at all stages of the planning and no decisions will be taken without your prior agreement. 
We do not offer 'Wedding Packages'. As no two couples are the same your day is tailor made for you, with you, with your wishes in mind and more importantly to your budget.
From the minute that you choose Weddings by Ann Leneghan as your wedding planners, we will guide you through the whole process step by step. So that when you arrive on Lanzarote you are at complete ease, knowing every detail has been taken care of.
Why Lanzarote?
Lanzarote isn't just a honeymoon destination, why not have your wedding ceremony here too. 
Within 4 hours of the UK & Ireland, Lanzarote is a popular choice for weddings abroad. The island is very accessible with many low-cost airlines offering daily flight connections, making the destination affordable for friends and family to fly out and be part of your special day.  We also have a fantastic range of accommodation available from self-catering apartments & villas to 5* hotels.
Weddings aren't seasonal in Lanzarote, they can be arranged for any time of the year, although the most popular months for ceremonies are from April to October.
The Canary Islands have the best climate in the world, we're not just saying that, we really do have fabulous weather all year round! We enjoy an average of 8 hours sunshine a day and our average daytime temperature ranges from 21 to 29 degrees from winter to summer.
You can't really escape the trade winds. There is generally a breeze in the Canaries. Our windiest months tend to be May & June, but there is a lovely breeze all year round.
We don't have much rain, typically 125mm a year. You should expect an odd shower between November and March.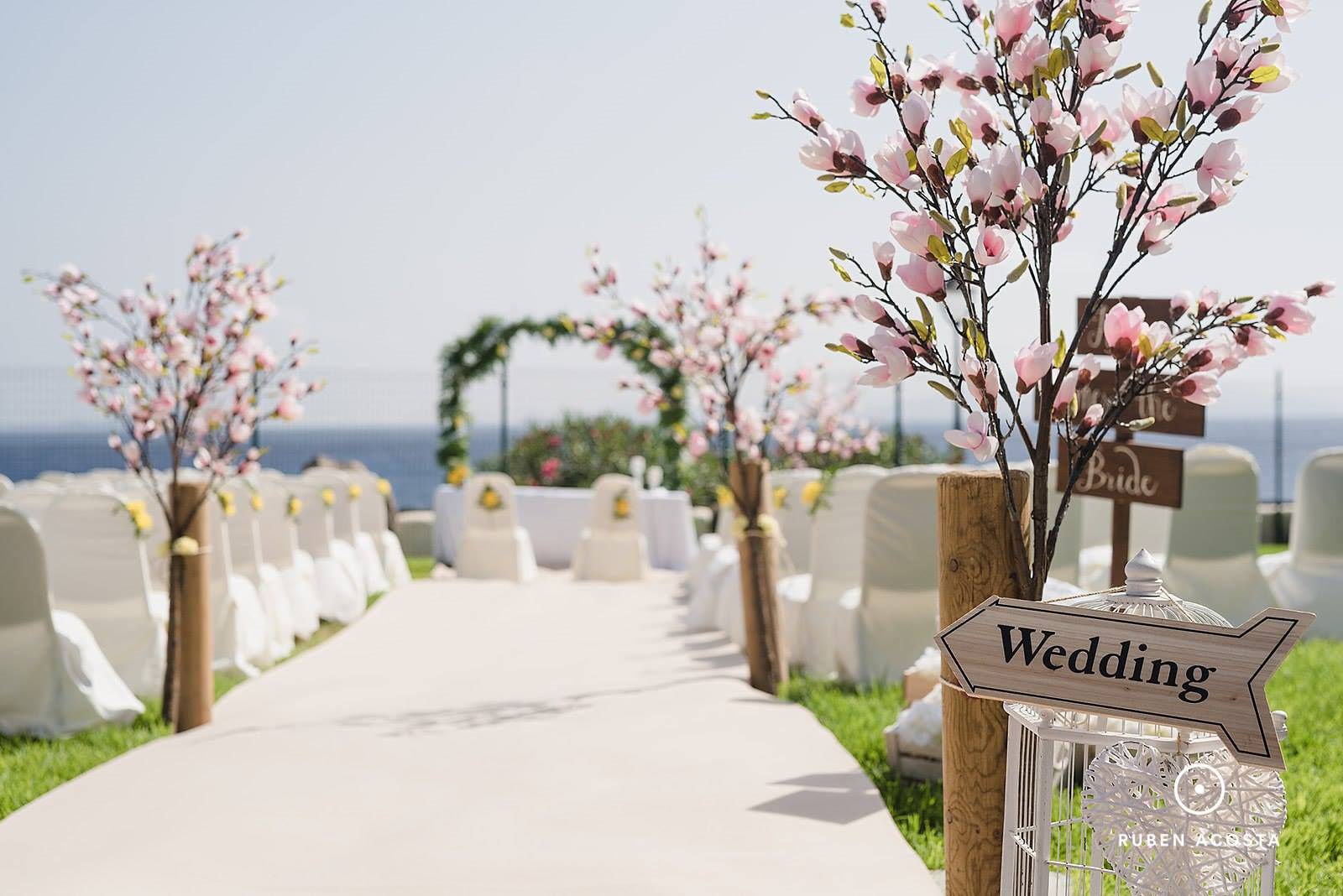 Lanzarote has a diverse range of landscapes, ranging from deserted white sandy beaches to vibrant volcanoes, combine that with our sunny climate and you've got a perfect location for your special day and wedding photos.