None of us thought 2020 would, in effect, see approx 90% of weddings re-scheduled, reduced or indeed cancelled, due to a worldwide pandemic…
Small and intimate weddings, also known as Micro Weddings, have become more and more popular in 2020 when restrictions meant a large event was out of the question.
But they are not new for us here at Weddings by Ann Leneghan.  Prior to 2020 we've been so lucky to have been able to help lots of couples like you plan amazing small, intimate, romantic weddings here on the stunning Canary Islands
WHAT IS A MICRO WEDDING?
Not to be confused with Elopements which are spontaneous wedding with just the couple.
A Micro Wedding is a downsized wedding celebration, usually involving a maximum of 25 guests, involving close family and friends…usually Micro weddings will still include all the features of a larger wedding day but scaled down, with a more relaxed vibe.
In fact micro-weddings were the most "on trend" wedding in the USA as far back as 2018…and there are lots of reasons now why couples like you are embracing this type of wedding.
Why are small weddings more popular than ever?
You may have decided to downsize because of Covid-19 restrictions, that dreaded event of 2020 that turned everyone's life upside down.
Or the thought of a BIG wedding has never appealed to you and literally brings you out in a nervous rash because of the stress involved, family issues, or even for financial reasons.
Then a Micro Wedding is the answer to your prayers. To be honest, bigger is NOT always better…
So why are Micro weddings becoming more and more popular…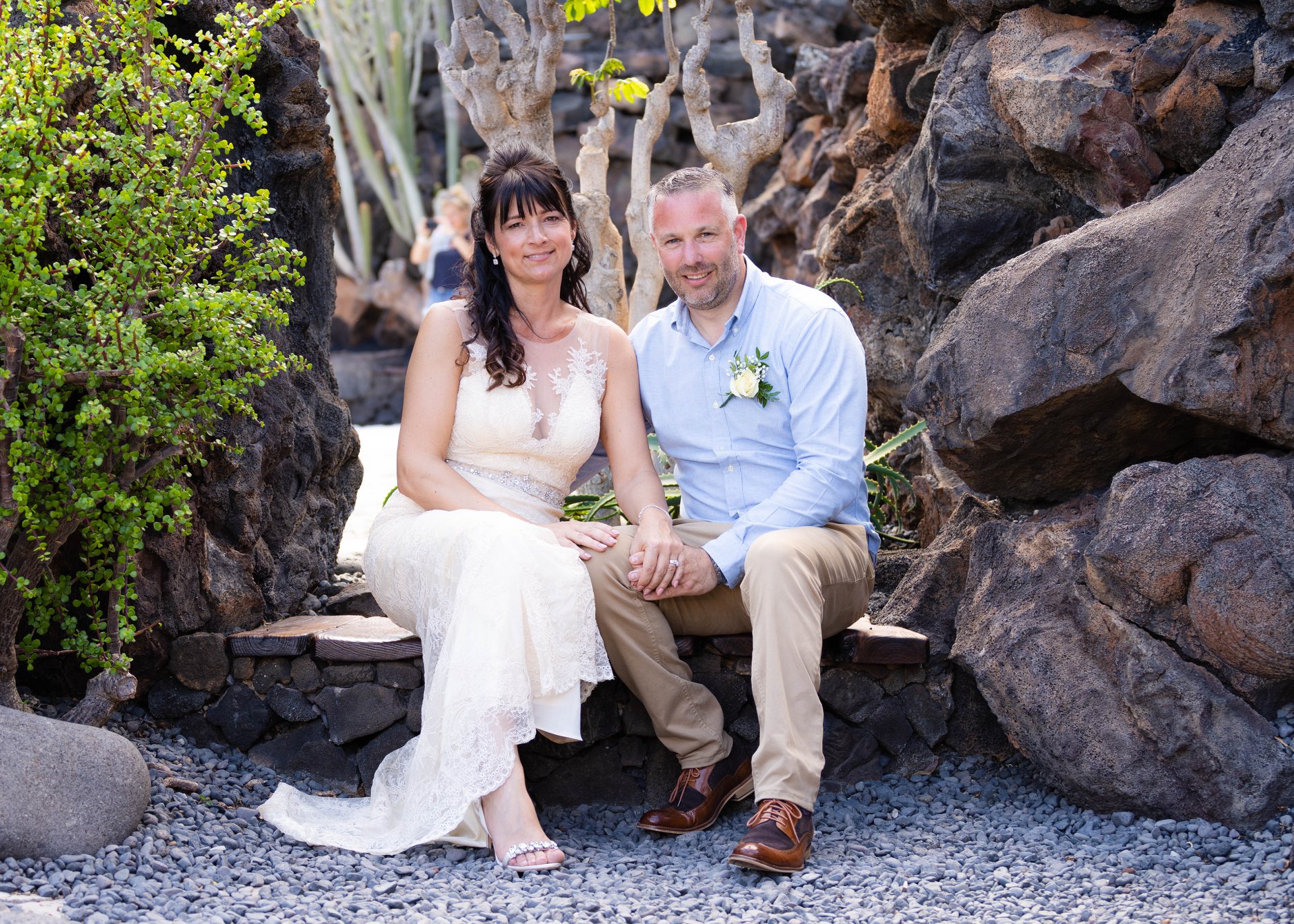 Claire and Chris | 10.09.2019 | Invited 8 guests
Ceremony at Jameos del Agua - Reception at AMURA
Photography by André DuCran
The cost?
This might seem like the obvious first reason.
By reducing your guest numbers to 20/25 the obvious cost savings are apparent…instead of paying for 100+ guests there are significant savings.  So budget can be a really strong reason to choose a smaller, more intimate wedding.
However, we are finding that couples who opt for Micro Weddings, rather than choosing to reduce their overall wedding budget, are instead deciding to increase the specification of their menu, entertainment etc…In fact they are choosing to "spoil" their special family and friends and becoming more indulgent..
So deciding to hire out more exclusive "one off" venues…having food sharing stations, pre and post wedding get togethers, activities together…in fact, usually, taking up 3 days- creating once in a lifetime experiences for their nearest and dearest.
Micro weddings, like any wedding, can be as costly or more budget friendly as you want it to be...always remember that you, the couple, are in full control of your wedding.
Advice for couples thinking of having a micro wedding?
If you both decide to scale back your wedding, for whatever reasons, you may find that some of your family and friends may be upset and try to change your minds. My advice is to continue with your plans and just explain your reasons for your decision.
So stick to your plans…and you don't have to do it alone.  By hiring an experienced and recommended Wedding Planner/Co-Ordinator, who can take care of all the details, this gives you the time to enjoy all the planning, without any of the stress. Smaller celebrations sometimes need better planning to ensure a huge success and like all weddings there are lots of details to consider.
Reduced stress 
Having to consider 20/25 guests instead of 100 means less Save the Dates, Invitations, less questions to deal with, less of a stress creating a table plan.
Giving you more time to relax and thoroughly the lead up to your wedding day.
It's all about the wedding!
Most couples feel that a micro wedding lets them enjoy the true meaning of the day, marrying their soulmate and beginning their married life together. Sometimes standing up in front of a huge crowd of people (some you may not have seen for decades) can bring out, even the most laid back couple, in a cold sweat.  With a micro wedding you are with the people you love and this adds to the relaxed atmosphere.
Spending quality time with your guests
A large wedding can be daunting…family will pressure you into inviting cousins or neighbours that you haven't seen in years...just because your parents were invited to their wedding decades ago…As a couple you end up spending most of the day and night trying to get around to speak to everyone, thank them for coming etc…you are exhausted at the end. BUT with small, intimate weddings you know everyone there personally...they are your nearest and dearest, you feel comfortable in their company. Welcoming fewer guests allows you both more time with each guest and you get to enjoy every minute of your special day.
And since you have opted to have a small, intimate wedding…you can take extra special care of everyone...maybe include a special personalised gift for each person attending...making an even more memorable day for your guests.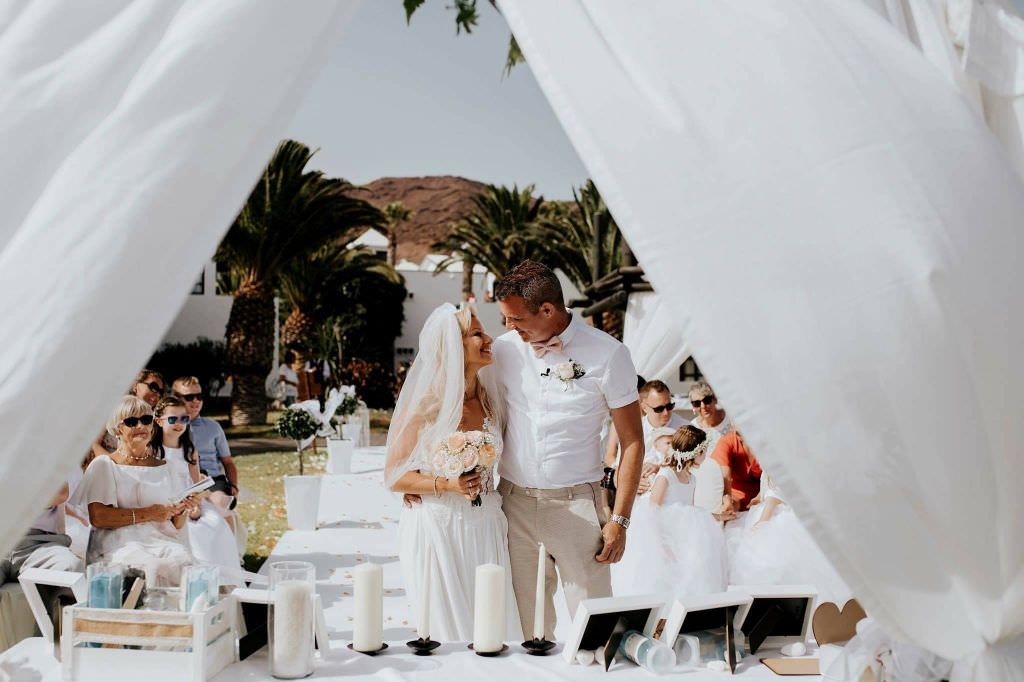 Lida & Ronan got married at the H10 Rubicon Palace in Playa Blanca, a few close friends and family members were invited.
Photography by Alejandro Diaz
Limit the lists of invitees
As with any small wedding it is impossible to invite everyone; otherwise, it's no longer an intimate affair. When you are ready to make your invitation list, you are going to have to be very selective. It's best if you agree on the number of people you want to invite and discuss the options between yourselves.
Immediate family is normally given priority, followed by close friends on both sides. It can be difficult to limit your numbers but consider those friends who are always there for you and those you really want to be a part of your special day. Try not to worry about upsetting anyone and maybe consider a pre-wedding or post wedding party at home with those friends and extended family that are not included in the main event.
Flexibility in planning is the key
Enjoy the complete flexibility of planning a micro wedding. Make up your own mind on what you both like and you can throw away the rule book and ditch the traditions.  If you are not comfortable wearing a white dress, then don't.  Don't put yourselves under pressure to do anything you don't want to.  Our motto is, "if we can get it and it's legal, then it's possible", enjoy the planning journey with your Wedding Planner and your micro wedding will be everything you dream of.
Hire a professional photographer
No matter how small your wedding is, please hire a professional photographer….it doesn't mean an 8-10 hour package or a second shooter.  But you will want to capture the magical moments, and because you have a shorter guest list this means that your photographer can create a special package just for you both…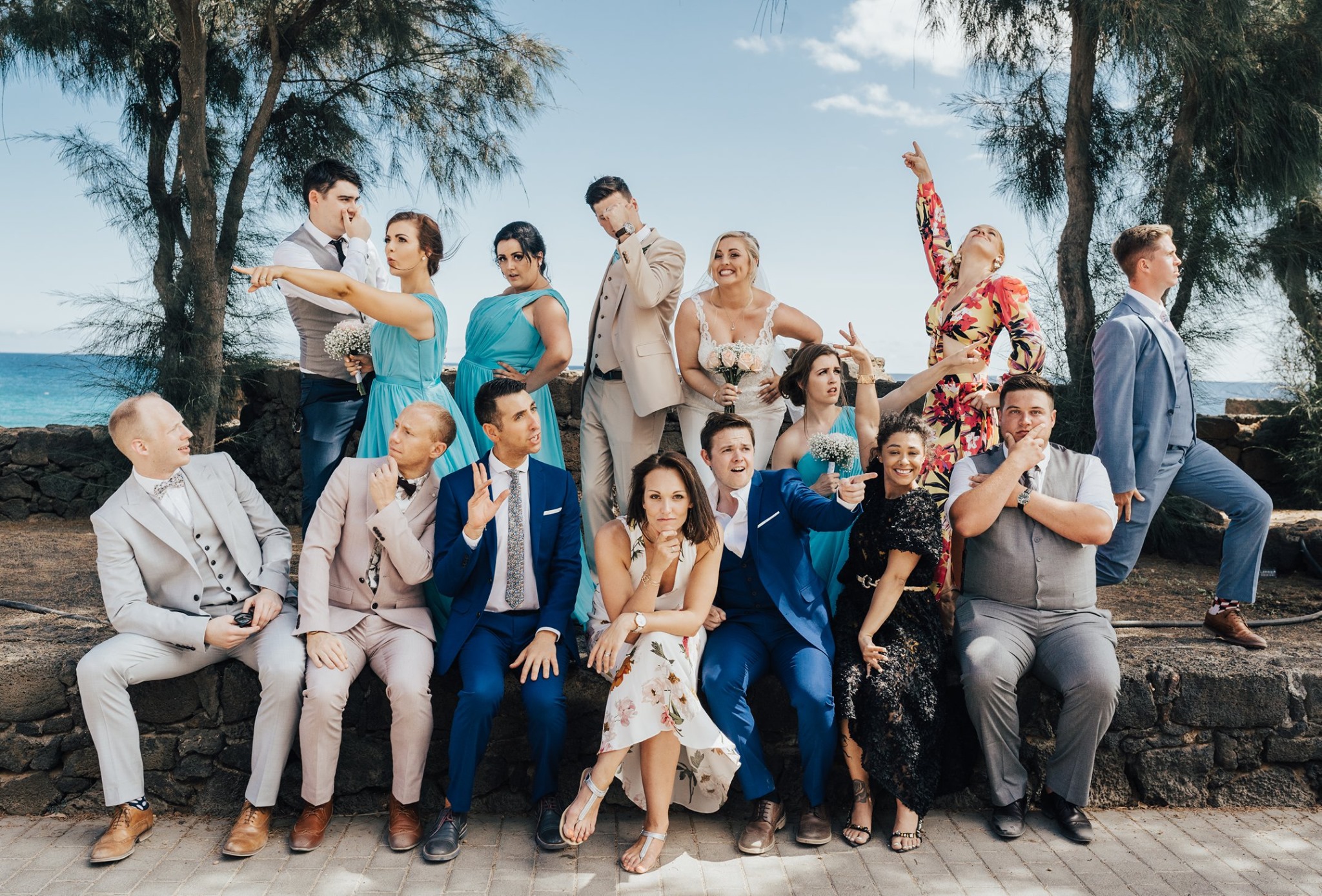 Less guests means more time for the photographer to take fun shots.
Sian and Ricky | 21.09.2019 | Villa Toledo -Costa Teguise
Photography by Rebecca Carpenter
What has recent research been telling us?
A recent study commissioned by Ramsdens Jewellery in the UK shows how Covid-19 is impacting on wedding trends
Here is the blog post from Ramsdens: https://www.ramsdensjewellery.co.uk/blog/wedding-trends-for-2021-what-can-we-learn-from-popular-google-searches/ 
And their homepage: https://www.ramsdensjewellery.co.uk/
The bottom line
Whatever reason you choose a Micro Wedding, be it because of budget, a need for intimacy, or just not wanting all the fuss and stress of a larger wedding…
The Micro wedding is the perfect solution, where you can "have your wedding cake and eat it".  You get the best of both worlds, an amazing intimate wedding when you get to say your "I Do's" in front of your nearest and dearest, and a celebration with the people you care most about in the world.
Ann Leneghan
Lanzarote Wedding Planner
Weddings by Ann Leneghan 
More posts you might like...