So, February is traditionally known for being all about LOVE and relationships. It's the time to give gifts of appreciation to your loved ones, but this doesn't always have to mean your romantic partner.
Did you know that today, 13th February,  is Galentine's Day…no you are not reading it wrong, and I didn't make a spelling mistake.. It is Galentine's Day…..Not to be confused with Valentine's Day.. 
Not all of us are LOVED up with our dream partner. Usually every 13th February, my girlfriends and I usually leave our husbands/boyfriends/girlfriends and partners at home looking after the kids, animals and firstly head to the SPA for a few hours of pampering. Followed soon after by a long and "boozy" lunch..and the night off from looking after the kids etc. 
This year is different because of the dreaded word…COVID. So why not think outside the box and give your besties, male or female, a super pressie to remember.
It doesn't have to cost a fortune…lots of us can't even go out a buy a card or presents due to restrictions. Which means that gifts that you create are all the more special. A few days ago we shared some ideas of what do to for your loved ones for Valentines, now here's a few ideas to get you started on your master creations for your special non-romantic friends. Obviously please follow COVID rules…and of course you can always give your Bestie an IOU for when it's safe to meet up.
How about a Pampering session
A bottle of bubbly, has to be PINK, a home-pedicure and manicure..and lots of chocolates..you can even plan to do this over ZOOM with a few of your besties and have a giggle.  Use lots of fluffy throws and cushions for comfort.
Create a little video or Slide show 
Share how your friendship started, add in your favourite stories and photos.  This is great for you too as the memories will come flooding back. 
Virtual Dinner date 
Plan a dinner date with your besties, create the menu and share the fun over ZOOM..this is great fun as you each cook the same meal at the same time…I am laughing already just imagining how this will turn out… 
Personalised Gift 
Get your bestie a lovely print..this one is from ETSY… or her favourite scented candle..  So many gorgeous gifts out there, from friendship bracelets, personalised mugs, necklaces etc.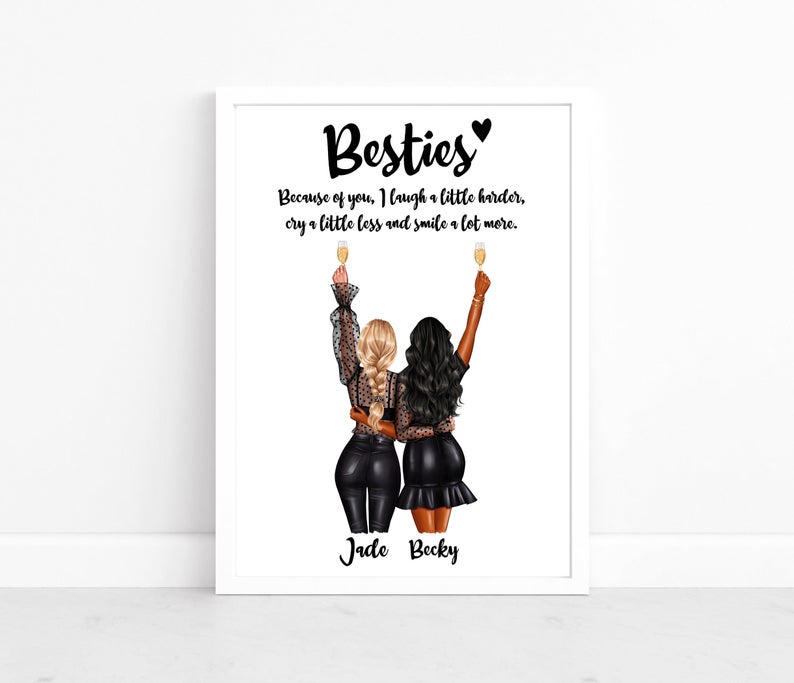 Sweet treats 
Does your bestie have a sweet tooth…why not make him/her some cookies or create a beautiful gift box of all their favourite sweets…melt some white chocolate and dip in strawberries, always a firm favourite. 
Bake-Off or Cocktail making session 
Have a virtual Bale-Off…or Create and make a signature cocktail over ZOOM - this is bound to get the giggles flowing, especially when you add a few bottles of bubbly to the mix… 
Virtual Movie Night 
Mail your Besties their favourite popcorn and choose your Movie to watch together, again Virtually..get the bean bags at the ready, into your most comfy PJ's, shut the lounge door, and have the best time ever. 
However you decide to celebrate your friendship on Galentine's Day…it's always great fun catching up with your Bestie. We all have very busy lives at the moment, home-schooling, making ends meet, trying to stay sane under the current restrictions. So please try to switch off and enjoy some FRIENDSHIP time and LAUGH like you used to when you were kids together, working together, clubbing together, or having babies together… 
HAPPY GALENTINE's DAY to my Besties…LOVE you all loads, thanks for being part of my life..I am forever grateful for your support and love.
Ann Leneghan
Weddings by Ann Leneghan