Let's start with the most important of all ... the wedding dress!
Experts say there will be a big rise in 'princess' dresses. Oh yes, the typical Cinderella dress is back in style. Big skirts, dramatic and feminine. Although, to be honest, we don't think that's the best choice when getting married here on sunny (read: hot and sticky) Lanzarote. Especially not if you're having a summer wedding. A ceremony dress and a reception dress will become a staple in 2020 as brides find more way to show off their personality and style. Celebrities like Billie Faiers, who changed into a playsuit for her evening party in the Maldives, and Ellie Goulding, who wore four outfits, are fuelling a demand for multiple looks through their day. Ellie Goulding tapped into another trend: the high necklines and low hemlines of the Victoria tend. The modern take on this look incorporates ruffled necklines, long sheer sleeves, layers, lace and flowing skirts.
Next year will also be all about the veil. We expect to see cathedral length veils all over Instagram. Big trend will be for these veils to be embroidered with personal messages, wedding date or couples' initials. Think of Hailey Bieber, who looked stunning with her embroidered veil spelling 'Till death do us part.'. But also having your dog's paw prints embroidered into your gown seems to be a trend. We're not too sure how we feel about that last one. Accessories wise we are expecting brides to be more edgy. Think leather jackets, bejewelled headbands and pastel-dyed hair.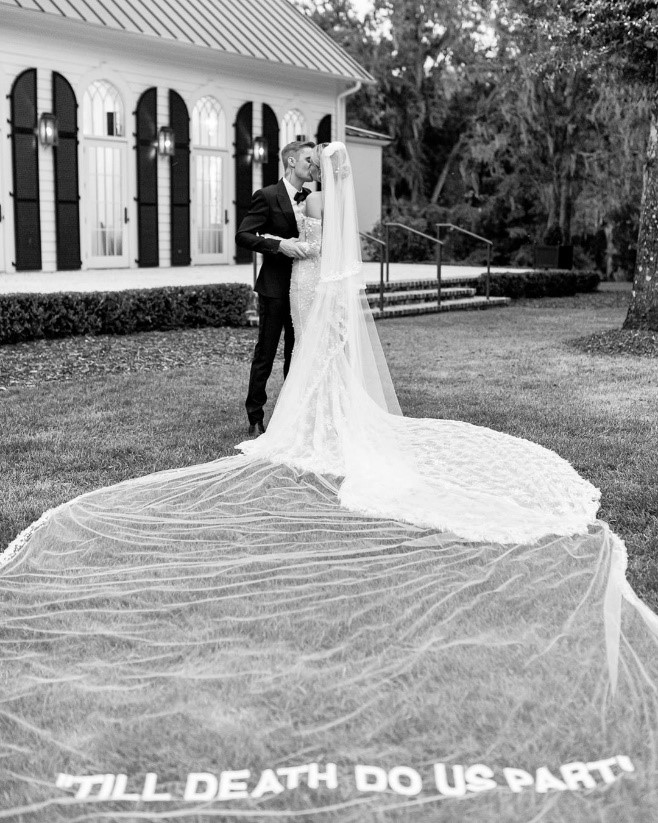 Our advice when choosing your dress? Focus on the location of your ceremony, your skin tone and your body shape. But most of all focus on your personal choice, don't let other people's opinions or trends make you choose something you don't like. It's your day, choose a dress that makes you feel like the best version of yourself.
Bridesmaids will never go out of fashion. But choosing their dresses has changed. The same dress won't necessarily suit every one of your bridesmaids. Choose different styles and colours. How about choosing a dress that they can wear again?
We also see a mixed gender in bridal parties. No more traditional bridesmaids and groomsmen. It's all a mix and we are totally here for that! You should have the people you want on your side, regardless of gender.
We notice that more brides are going for fuss free hair styles. No perfect up styles. The undone bun à la the Duchess of Sussex, or freshly washed and tousled tresses are becoming the new normal for brides keen to avoid traditional or overly coiffed hairstyles.
As for Make-up, we turn to our MUA Michelle. Michelle always advises our brides-to-be with "your wedding day is not the day to try something new. If you have never worn red lipstick, today is not the day to do it. You need to be the best version of yourself on your wedding day, not the best version of someone else." So, let's not follow trends here.
Onto flowers, while roses will always be a classic choice in your wedding bouquet, we've noticed more greenery and grasses added lately.  A more neutral tone of dried flowers and grasses such as pampas grass are in trend, together with dried fruits and branches. Fragranced bouquets are also making a comeback. Beautifully scented florals such as freesias, lavender, sweet peas and lilacs are making their way in.
We're even seeing fresh herbs make an appearance! Springs of rosemary, mint, thyme or sage work just as well as table decor as they do in in the wedding food!
And finally, brides are using succulents in their bouquets. Also, as table decor, on their cakes, in their hair and even as wedding favours! We love this idea, as it brings together many colours, regardless of what flowers may or may not be blooming at the time. And another great thing about it … Lanzarote is full of them!
In our ever-changing world it's good to consider being 'sustainable'. Think of using recycled paper as wedding stationary, biodegradable petal confetti or a charitable donation to replace favours. It's all about more environmentally conscious weddings.
The vegan trend is worldwide now and reflecting on weddings. We see more vegetarian and vegan dishes being served then the typical meat, chicken or fish. The free-from menu wedding is still in, as it has been the past few years. Informal eating arrangements, no seating plan, buffet tables, food trucks and grazable snacks is what couples tend to go for these days. The Gin & Tonic station is still popular and the personalised cocktails. Last year we saw the 'signature drink' rise, alongside with personalised canapes and dessert. We're sure we'll be seeing lots more of that in 2020.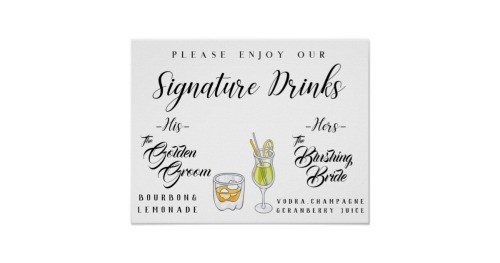 Group activities for guests are a big thing. How about having your guests make your signature cocktail. It sets an ambiance, your guests will interact, and it's great fun! 
The days of traditional wedding photography have passed. No more posed shots, with a shot of each family combination possible. It's all about natural moments now, candid shots of people enjoying the day.
Having your wedding photos taking on a separate day, often day after, is a growing trend. Instead of having to rush from one place to another on your wedding day, and therefore not being able to enjoy it. On the day you should be enjoying time with your family and friends.  It also gives you the opportunity to have your shots taken on other beautiful locations and gives you more time to relax, as you are not having to get back to your wedding at a certain time.
Lots of couples are also choosing for a second shooter on the day, allowing photos to be taken of both groom and bride and their parties getting ready. Couples that share the importance of capturing those special moments also look to capture a mini film, videographers are becoming more popular with couples who wish to relive their big day.
And when you have a photographer and a videographer, you don't want your guests stuck to their phones the whole day. That's why more and more couples are going unplugged for their wedding ceremony. No cameras, no phones, just guests being there and enjoying the moment with you.
Balloons and neon signs, these we've seen become extremely popular over the last year. Giant, round balloons filled with glitter or in your theme colours. Balloon art has definitely taken over. We also expect so see lots of balloon walls and wall art murals, which will provide backdrops for pictures. As an Instagram worthy picture is all people want these days.
The neon sign trend is electric and can be easily incorporated into any wedding style. It can also add a modern feel to your wedding, if that's your style. We've seen them added to greenery boxwood backdrops, on the front of bars, and on the front of or behind sweetheart tables. You really can't go wrong with this trend.
One more trend of this year that will for sure go on further in 2020 is metallic details. It doesn't matter which metal you decide to choose as the main theme. Just make sure all the details have the same colour. Gold, Silver, Copper, Rose Gold, Platinum, … all these metallic colours are high on our list of trendy ideas.
You've probably seen it before, the flower grandma! This adorable trend has been around for a while, but it's so adorable we don't think it should ever go out of style. You want to have a childfree wedding? You don't have any kids the right age to be your flower girls? Or maybe you just really love your grandma? You're in luck, because passing this honour from the youngest members of the family to the wisest is a trend that we absolutely adore!
Everyone loves the cutting of the cake time of day. But the truth is you spend a lot of money on a beautiful cake that most of the time only gets half eaten.  Couples are looking for something alternative to the standard wedding cake. We're seeing donut walls, macaron towers, popcorn machines, candy carts, cupcakes, cheese wheels, crisps wheels and even pizza cakes. Yes, you read that correct, a pizza cake!
Whatever trend you go for the following year, please keep us in mind. As we'd love to take part in planning your special day.
Xxx Ann & Alex